West Indian cherry is a low-branching shrub, or small tree originating in tropical America, its natural range extending from Mexico through Central America and the Caribbean to South America, as far south as the state of Rio Grande do Sul, in Brazil.
It may grow into a small tree reaching heights of up to 12 m (40 ft). However, it is typically a shrub 3 to 5 m (10 to 16 ft) tall with multiple stems that lean out from the centre, forming a wide-spreading, V-shaped plant. The bark is grey or brown, smooth and dotted with wart-like pores known as lenticels.
Leaves are oval or club-shaped, 3 to 8 cm (1.2 to 3 in) long, glossy lime-green and arranged in pairs along the branches. They usually stay on the plant throughout the year, but some leaf-fall occurs in areas with a pronounced dry season.
The flowers are small with five pink petals and bloom after it rains, in the rainy season in seasonally dry areas or intermittently in areas without a distinct dry season. They are soon followed by green cherry-like fruit, becoming bright red to dark red when ripe, with soft juicy pulp surround three angular seed.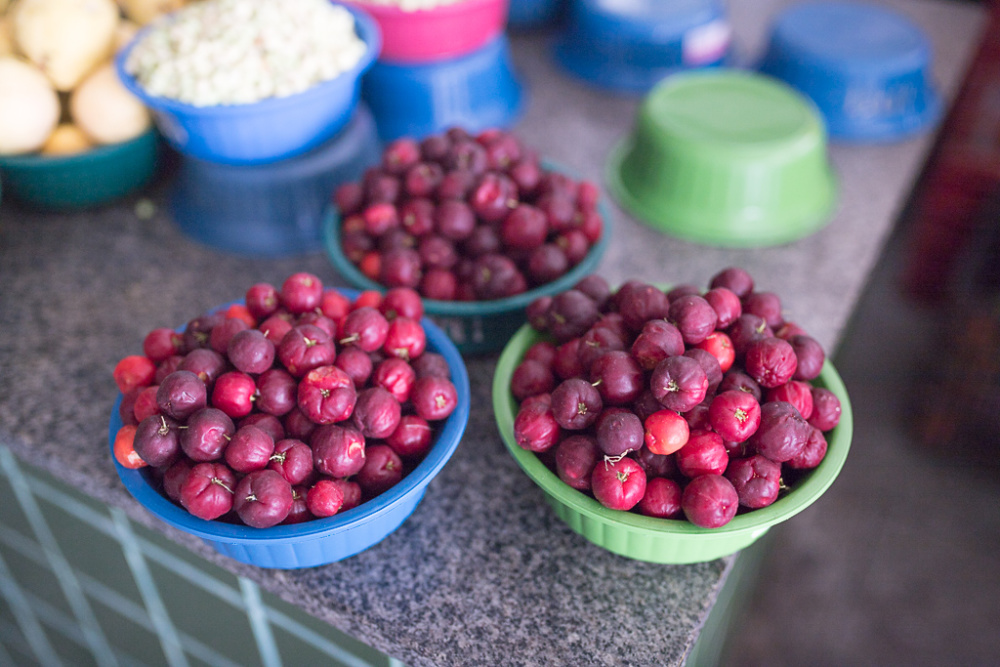 Market stall (Salvador, Brazil)

Use
The fruit are eaten when fully ripe, mostly fresh out of hand, though they also make a refreshing drink. The pulp is juicy with an agreeable sourish to sweet fruit flavour. Still, it can sometimes be insipid, depending on the variety, growing conditions and stage of ripeness. Commercial processers usually convert it into fresh juice, purees, fruit syrup or cordial.
Extracts of the fruit are used as antioxidants in skincare products, particularly in formulations against skin redness and inflammation.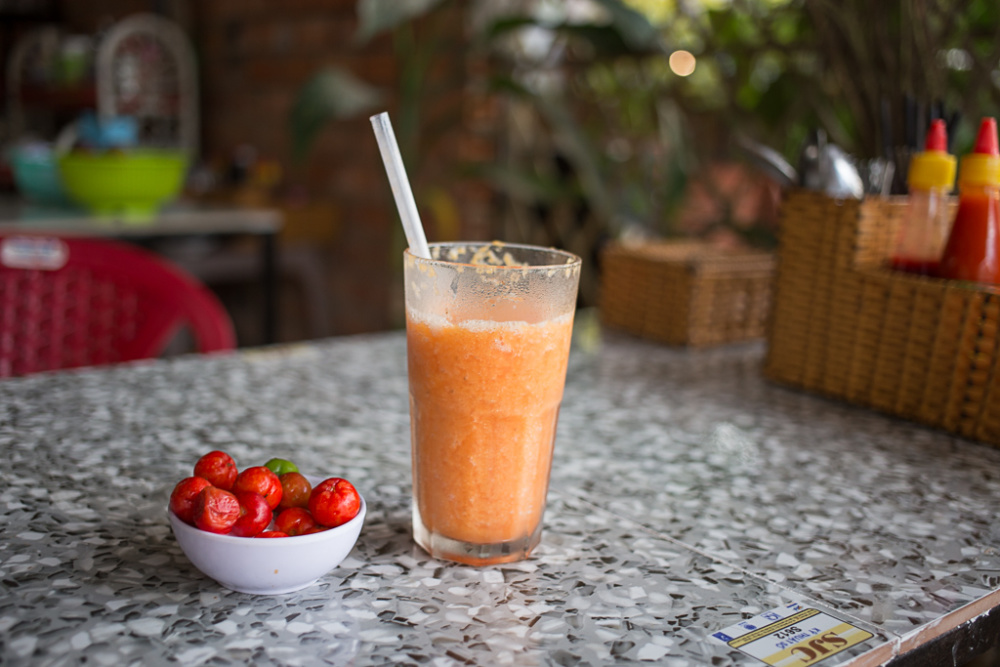 Berries blended with ice (Phu Quoc, Vietrnam)

Climate
West Indian cherry grows naturally in humid subtropical and tropical climates, generally frost-free areas with annual lows of 13 to 25°C, annual highs of 22 to 37°C, annual rainfall of 800 to 3200 mm and a dry season of 7 months or less. It also grows and fruits well in drier areas with irrigation. However, plants may fail to thrive in areas where the average low of the coldest month is below 8°C (46°F) and produce flavourless fruit in places with cool summer temperatures.
Health use
The fruit pulp and juice are among the richest known sources of vitamin C (ascorbic acid). The highest concentration of vitamin C are found in the green fruit, decreasing as the fruit ripens. It is most readily available in its natural or fresh form, as it is easily destroyed during processing into products such as juice and vitamin tablets. The fresh fruit also has good supplies of vitamin A, beta carotene, folate and iron.
Growing

New plants can be raised from seed, cuttings or using air-layering (circumposing) techniques.
Performs best on free-draining clay, loam and sand soils of a moderately acid to alkaline nature, generally with a pH of 5.5 to 8.5, and on sites with full to partial sun exposure. It has poor tolerance to slow-draining or saturated soils and is susceptible to nematode attack, particularly on sandy soils.
The variety 'Florida sweet' is the most popular and widely cultivated variety, on account of its adaptability to a wide range of subtropical and tropical climates and its flavoursome fruit, which reportedly is semi-sweet with an apple-like flavour.
Problem features
It is recorded as naturalised in Puerto Rico and is listed as a weed in at least one reference publication. However, as a minor weed, and there otherwise does not appear to be any record of it as a serious weed or invasive species, despite its widespread introduction and cultivation. It is assessed as a low weed risk species for Hawaii by the Hawaii Pacific Weed Risk Assessment (HPWRA) project.